PREMIER Entertainment CAREER RESOURCES
Welcome to the Industry!
In Print | Online | On Tour
ENTERTAINMENT POWER PLAYERS® Presents ENTERTAINMENT CAREER CENTER:
THE DATABASE
Fashion, Film/TV, Gaming, Music & Sports
Need More Contacts for Your Career?
★Here is the official Entertainment Career Directory + Database! 
★Get Connected Like a Pro!
★Special thanks to all the colleges, universities, HBCU's, libraries and career centers partnering with us!
★And, special thanks to all our sponsors!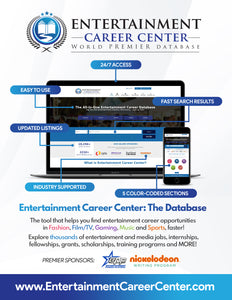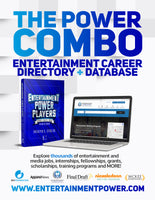 BOOST YOUR CAREER TODAY
Professional Development Resources!
Entertainment Career Directory
It's easy to get started in the entertainment industry!
If you want contacts...
If you want shortcuts...
If you want fast answers...
If you want quick results...
If you want real-time updates...
Then, this is the Direcotry & Database for you!
BUY THE BOOK!
Sponsors & Participants | (Current & PREVIOUS)