Welcome to OUR CREATIVE ZONE!
Entertainment Power Players® AND Key Quest Publishing Presents:
Career Resources | Inspiring Content | NEW Book Series
★★★ BOOKS BY OUR CEO: ★★★
★ ENTERTAINMENT POWER PLAYERS®
Fashion, Film/TV, Gaming, Music & Sports
★ GIRAFFES HAVE THE BEST LAUGHS
★ SOMETIMES, I DREAM: A COLLECTION OF POETRY AND PROSE
★ THE PEN THAT SPARKED IT ALL
★ THE PEN THAT SPARKED IT | ALL ACTIVITY BOOK
★Special thanks to all the colleges, universities, HBCU's, libraries and career centers partnering with us!
★And, super special thanks to all our sponsors!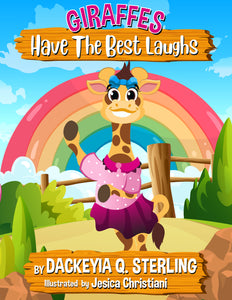 BOOST YOUR MOOD TODAY!
Children's Picture Book
It's colorful, silly and inspiring too!
It's whimsical and fun!
If you want to smile...
If you want to giggle...
If you want to laugh...
If you want to join in the fun ...
Then, this is the book for you!
ORDER YOUR COPY!
OUR ENTERTAINMENT POWER PLAYERS® PARTICIPANTS | (Partial list)